Welcome to Rackaback Morris
Next dance out: South Cave Christmas Lights 29 Nov 14
South Cave Parish Council event to mark the turning on of the South Cave Christmas Lights. Rackaback will bring our own purple lights to the evening.
Click
here
for full list.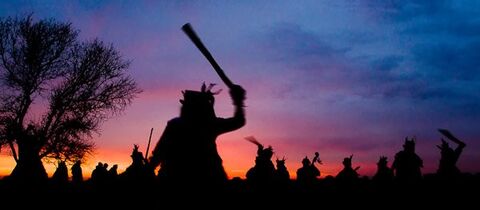 Rackaback is a vibrant and thriving mixed border team in Hull, East Yorkshire.  We formed in January 2011 and have built up a repertoire of traditionally inspired Border Morris dances with our own Rackaback twists. We are also incorporating some local East Riding ploughboy dance into our displays.
We dance out at various events, and at pubs in East Yorkshire during the summer months - see our Dance outs page.
We're always interested to meet new recruits. So if you're a musician who wants to play for dancers or if you fancy dancing why not give it a try. No experience is necessary as full teaching is given. Come and enjoy the dance. Details on our Joining page. Why not come and try Morris - you'll be sure of a warm welcome!
Similarly, if you'd like us to perform at your event, please do contact us.